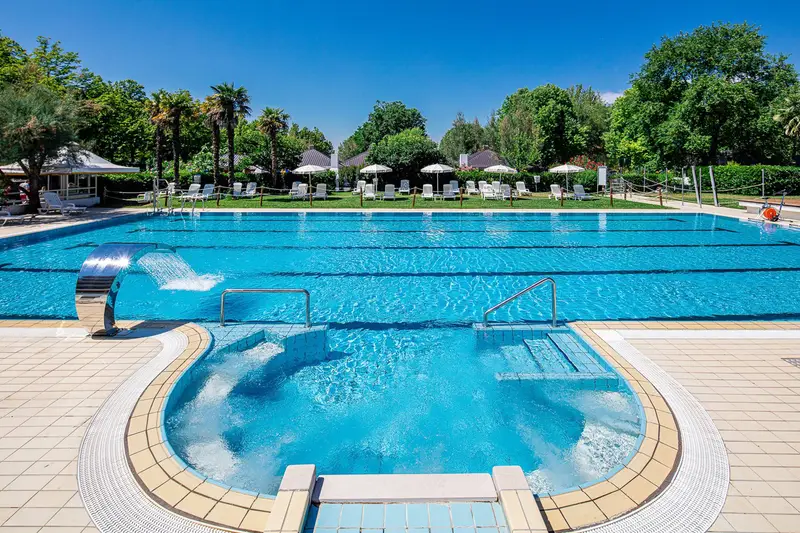 Beach and Pool
A holiday between the sea and the pool
in a blaze of blue
Guests of the Aparthotel Albatros can spend their beach holiday on the beach reserved for them, fully equipped and with specific areas dedicated to the entertainment of the little ones. Don't forget our swimming pool area, a few steps from the bar and surrounded by sun loungers and umbrellas for relaxing moments with the whole family.
A golden microcosm within everyone's reach
The beach reserved for Albatros customers is fully equipped with sun beds, umbrellas and gazebos, for a holiday in total tranquility. Those traveling with children will find spaces suitable for children such as green areas with slides and spring games and a beach volleyball court. There is no shortage of changing rooms and hot showers.
Pure relaxation in the pool
If you want to take a break from the beach, you can try our outdoor swimming pool, complete with whirlpool and cascading fountain. A corner of well-being, also ideal for those suffering from neck and back pain. Adjacent to the swimming pool for adults, there is the mini pool for children, with shallow water and a slide dedicated to their enjoyment.
What to expect from your vacation
Information and timetables
All guests of the Aparthotel have free access to the beach and all services. The sea material is included with the room.
To enter in the pool, it is recommended to be equipped with a swimming cap.
A preview of your holiday
© 2023 LOS NIDOS S.R.L.
VAT 00402300305
Share Capital € 200.000,00 i.v.
QNT Hospitality